Epson presents Australian firsts at first-ever western Sydney Product Expo
08-Nov-2017
Epson will be presenting some never-seen-before products at its first-ever Product Expo at western Sydney's Stonecutters Ridge Golf Club in Colebee on 15 and 16 November.
As with Epson's other highly-acclaimed expos, the Colebee event will feature the company's complete range of solutions in signage, photography, proofing, production, dye sublimation, direct to garment and technical printing, but this time with some special guests.
The signage department will be represented by the industry leading SureColor S80600 and S60600 printers while fabric will have demos from the SureColor F2000 (DTG) and the brand new high-speed SureColor F9360 (dye sub) printers. Premium photo, fine art, poster and graphics production will be represented by the SureLab D700, and the SureColor P20070, P9070 and award winning P5070. Finally, technical and CAD will have the SureColor T5200 demonstrating its printing capabilities in those areas.
According to the General Manager of the Business Division at Epson Australia, Craig Heckenberg, there is a whole lot that's never been seen before at an Epson product expo as he explained, "Visitors to this Product Expo will be the first to see the brand new SureColor F9360, a large format dye sublimation fabric printer from Epson. With this new printer we will be demonstrating industrial-level productivity for digital dye-sublimation transfers for a range of polyester textile applications including soft signage and apparel. Also never before seen at one of these expos will be our ColorWorks TM-C3500 and TM-C7500 desktop digital label printers and a selection of POS receipt printers."
More about the products at the expo
Waving the banner in the signage arena, Epson's eco-solvent flagship 64" SureColor S80600 uses a 9 or 10-colour ink set to produce the widest colour gamut in its class and achieves up to 98% PANTONE® coverage. It can be used with a wide range of media and is suitable for many applications including durable signage, POS displays, wall finishes, vehicle wraps, labels and decals.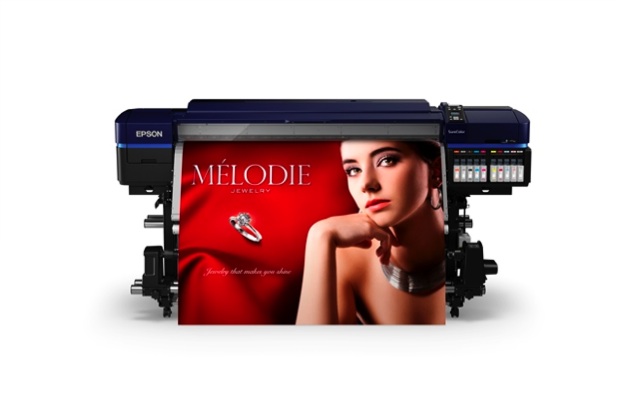 SureColor S80600
Complementing it is the SureColor S60600 producing durable high-quality signage quickly, easily and at minimum cost. With its structured workflow it is ideal for medium to high production volumes and can be used with a wide range of media including paper, canvas, film and vinyl for many applications.
Filling out the fabric range, the SureColor F2000 direct to garment printer will demonstrate its abilities for work involving cotton based shirts, caps, bags, and promotional items. Alongside it the brand new ultra-high speed SureColor F9360 64" dual head roll-to-roll dye sublimation printer will be delivering outstanding print quality and exceptional colour gamut at sellable production speeds up to 60 m2/hr.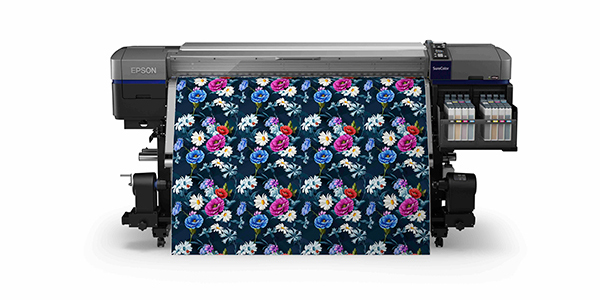 SureColor F9360
In premium photo and fine art production things get a little classier with the industry leading 17" SureColor P5070 and 44" SureColor P9070 that deliver the highest possible gamut with PANTONE coverage up to 99%. For poster and graphics work Epson will be showcasing the super-fast SureColor P20070, a 64" large format printer with an advanced K4 ink set, low running costs, optional direct Postscript file handling and a high precision Auto Take Up unit. Finally for the studio & event photographers and photo lab & kiosk users the SureLab D700 dry film mini lab will be demonstrating why, in the world of commercial photo and photo merchandise printers, it's so highly regarded in the low-medium volume production area with its compact size, versatile media handling and simple & flexible operation.
Technically the CAD and business graphics area couldn't be better served than it will be by the SureColor T5200, a printer that features Epson's latest PrecisionCore™ printhead and aqueous UltraChrome® ink chemistry. It will print an A0 image in as little as 50 seconds with output that dries almost instantly to be water and rub resistant. It boasts low running costs and can be purchased with an optional scanner for full copy/print/scan & share functionality.
Finally there's no doubt that Epson prints labels well as the compact, four-colour ColorWorks TM-C3500 inkjet printer will demonstrate at the expo. With its fast printing speeds up to 103mm/second and a nozzle check system that produces a reliable output of high volume labels with excellent image quality, the TM-C3500 is hard to beat.
Then taking labels up a notch, the ColorWorks TM-C7500 is a fast, 4-colour, industrial grade desktop label printer that will clearly show how you can reliably expect on-demand colour printing of large print jobs and jobs with tight time windows without compromise.
Epson's western Sydney product expo will run from 7am to 7pm on 15 and 16 November at Stonecutters Ridge Golf Club, 83 Stonecutters Drive, Colebee, NSW 2761.
PANTONE® and other Pantone trademarks are the property of Pantone LLC.
---