Avery Products Corporation, has introduced Surface Safe sign labels. This customisable signage leaves no damage or residue on walls, windows, stainless steel and more.
The sign labels, available at Fastenal, Amazon, avery.com and select distributors, are made of a durable polyester material that's water, chemical, abrasion and tear resistant. They're suitable for creating caution, hazard, compliance, warning and confined space signs, as well as signs for offices, schools, special events and home. They're easy to customize and users can either print them from a standard desktop printer or have them custom printed by Avery WePrint, the company's professional printing service.
Product features include:
Removable Surface Safe adhesive sticks and stays put yet removes cleanly without damage or residue, for up to three years when used as recommended.
Recommended for indoor use on drywall, doors, glass, stainless steel and more
Ability to easily create custom signs using the free Avery Design and Print software at avery.com/templates or order custom signs from Avery WePrint at avery.com/weprint
Choose from hundreds of complimentary stock or customizable OSHA/ANSI compliant templates
"These new sign labels offer a simple solution for businesses and facilities to create custom signage that won't damage surfaces and holds up to wear and tear in warehouses, the manufacturing floor and offices," says Tina Huff, group product manager. "The adhesive used in our Surface Safe technology offers users a unique performance, and even better, with the easy-to-use design software, they can design and print new signage in minutes from their desktop printer or let Avery WePrint professionally print them. And when they need a change, they can easily take the sign down, leaving no damage or residue."
The labels are compatible with both laser and inkjet printers—no specialized printer is required. For the best inkjet printer performance, use pigment-based inks like those used in HP OfficeJet Pro and Epson WorkForce Pro printers.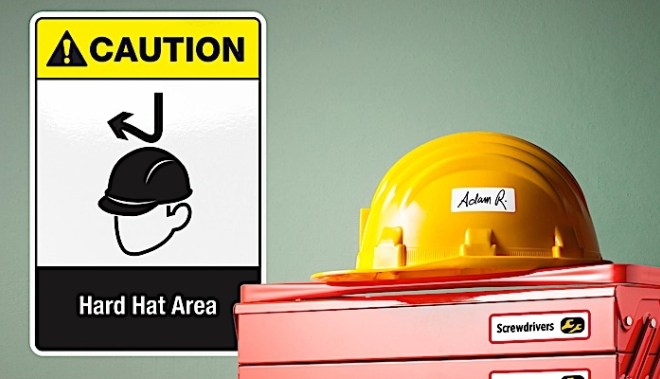 Tips and Tricks : Wall Film Preparation and Application
– Written by Jessica Tailby. Graphic Art Mart
Wall films come in a range of textures, with durability and adhesive features to match many applications including:
walls, doors, ceilings
reception areas, offices
retail stores, gyms, restaurants
home décor, furniture
showrooms, exhibitions
hallways, walkways
Beyond meeting concept and design objectives, the key points to consider for wall graphics are:
Choosing the right wall graphic product
Careful surface preparation
Surface Preparation:
Preparing the surface properly is the foundation to a successful application. To prevent your wall graphic from bubbling, peeling or sliding off, the surface has to be free of dust and damage. Success can be guaranteed with patience and attention to detail. By hastily installing wall graphics, you are inviting failure.
Pristine Walls:
Irrespective of wall type – plaster, brick, concrete or rendered walls; loose joints, flaky material, chipped or peeling paint, holes and cracks – anything that might affect the quality of the wall graphic must be attended to.
Repairs will avoid two issues:
The wall graphic film will adhere to the surface better and maintain quality and longevity.
Imperfections are more evident when graphics are applied, and may be even more obvious if a protective overlaminate is used.
Painted Surfaces:
To be certain of the surface quality, repaint with a high quality semi-gloss or gloss paint. A textured surface will limit the adhesion of the graphic, i.e. the film sticks to the high points only. A smooth flat surface will give the best opportunity for a quality application and thorough adhesion.
A newly painted wall, after curing still needs to be cleaned with a lint free cloth to remove any dust particles. Existing walls, if in good condition, are to be washed with Isopropyl Alcohol and dried thoroughly.
Time is Your Friend:
Allow time for paint to cure not merely dry. Curing gives maximum hardness, time for outgassing, and covers other factors such as the thickness and colour of your paint and the surface type. For water based paints curing can take as long as 30 days whereas oil-based paints can take 7 days. Your paint manufacturer should provide clear guidelines. Applying a graphic before complete curing may cause lifting, or bubbles that result in failure.
Sometimes speed is necessary, particularly for business advertising and workplaces. Vipond's Self Adhesive Prep Coat can be used to enhance the adhesion of self-adhesive digital prints onto internal and external surfaces.
Choosing the Right Product:
Get it right first time! Understanding objectives, the look and feel of the wall graphic and the surface type are the first considerations. Knowing the traffic flow and if the graphic will be touched, brushed or scratched may mean adding protection through laminating.
To be confident of success, test the compatibility of the graphic film in an inconspicuous surface area.
The following examples show some of the many vinyls, wallpaper fabrics and high tack films available:
Vinyl Indoor Wall Film
Vinyl wall film is a common solution for wall murals, POP and tradeshow applications in high traffic areas such as shopping centres, businesses or conventions. Being a tough and scuff resistant film, it is perfect to ensure
longevity and maintain a fresh appearance.
The Avery MPI 2611 Wall Film suits these applications perfectly. Being a 152 micron satin white vinyl film with a thick face construction it provides extra stability to eliminate curling and bubbling. Its adhesive qualities work well with many kinds of walls and painted surfaces, while at the same time it can be removed if necessary. This film is often laminated for added protection as well as making it easier to install.
Printable Wallpaper Film
Changing old wallpaper perceptions, with digital print technology and modern wallpaper graphic media you can have a unique design to achieve a WOW factor.
The Sihl 3258 Satin Wallpaper is a market leader. Being a printable wallpaper film coated with a satin finish it provides outstanding scratch and water resistant qualities. Easy to apply it comes pre-coated with a wateractivated adhesive that is quick drying.
Fabric Textile Film
Fabric materials are proving very popular for a soft, textured feel. One advantage of these films are that they are removable, repositionable and reusable.
Phototex Blockout is a tinted removable/reuseable textile film that is seen in retail outlets, shopping centres, commercial buildings and homes. Its tinted adhesive ensures a solid colour finish and can be installed on any
surface except non-painted brick. In addition it can be used over and over again.
High Tensile Wall Film
Where the quality of the surface is unknown a high tack adhesive film is recommended to ensure that the wall graphic is effective. This is particularly true when applying to highly textured surfaces such as brick and concrete. The Arlon DPF 8000 Series Outdoor Wall Film is equally suitable to indoor applications. This product is a 90 micron satin white poly vinyl chloride film with high tensile properties designed to last.